This history is a work in process. We encourage readers to send suggestions, additions and corrections.
A Brief History of Golf
Why couldn't Nunda have its own golf course? That was the question before a group of local citizens who met at the Mary Jemison Inn in August of 1928.
Golf wasn't exactly new to the people of Nunda. They had been following the sport through the pages of newspapers like the Nunda News and various magazines. They followed their favorite golfers, read about tournaments, and were attracted by the aura of affluence and leisure that was associated with the game.
Before World War I only a few had played the game. One had to travel to the cities or vacation at resorts to find a golf course. But that had changed in the Twenties. Both incomes and leisure time were on the increase even in rural villages, and automobiles made it possible easily travel to the the new courses opening up across Western New York. By 1927 there were six golf courses within easy reach of Nunda. Silver Lake had been built in 1923, followed by Geneseo, Dansville, Stafford, Hornell and Conesus Lake. Local banker Fred Olp was the vice president of the Silver Lake Golf Club for many years and Nunda's George Graves was a trustee at the Geneseo course. So it wasn't a surprise that there was a movement for Nunda to build its own links.
The meeting was announced in the August 3,1928 issue of the Nunda News. "A dinner meeting has been called by local golf enthusiasts for next Monday evening at the Jemison Inn, when consideration will be given to organizing a Golf Club here.…" the front page article reported. "The number of golfers has been increasing here each year and there seems to be a demand at the present time for a course to be built here."
The "enthusiatic" meeting ended with the formation of a committee to look into purchasing the 172 acre Stone farm just south of the village. The group felt that Mabel Stone's house would be the perfect club house, and that "no better location for a golf course…could be found in the Genesee Valley." It was hoped that a formal golf club would be organized, and that Nunda would have its own course "in the very near future." Neither would happen for almost forty years.
It is not clear why the golf club and course never materialized, for the interest in the sport continued to grow. For decades Nunda golfers joined local golf clubs and played at area golf courses, included the new 9 hole Keshequa Golf Course that opened at Sonya in 1962.
Nunda's golf dreams finally came true in 1966. Nunda native Freeman Barber, whose family farm lay just north of the village, began work on a nine hole golf course in 1965. Barberlea Golf Course officially opened to the public on June 11, 1966. The Nunda News commented " Those who have not seen Barberlea should drive out and see what a beautiful lay out Mr. Barber has. Golfers who have already played around the course praise Mr. Barber for his foresightedness in providing such a fine set-up right here."
Nunda also got its golf club, for both men and women's golf associations took shape that same year. Clinics and workshops were also held to encourage more local residents to take up the game. A successful golf team formed at the High School, which won several divisional titles.
Barber first leased, then sold, Barberlea to Scott & Dale Marsh in the 1980s who expanded the new Triple Creek course to 18 holes. The Barbers then built a new 18 hole course. Across the road from the original Barberlea course. This new golf course was named Woodlynn Hills. With two golf courses and scores of dedicated golfers, golf has secured its place in the history of sports in Nunda.
(Note: Since this article appeared in our 2017 Historical Calendar, the Triple Creek Golf Course has closed.)

Readers are encouraged to contribute stories to this page. The stories can be of any length and talk about teams, seasons, outstanding individuals, coaches, or anything relating to this sport. You will be credited for the story and listed in the contributors' section found at the end of this page.
Please send in photographs related to this sport. Digital copies are fine, please contact the Historical Society to arrange for scanning. We also encourage donations of photographs. You will be listed in the contributors.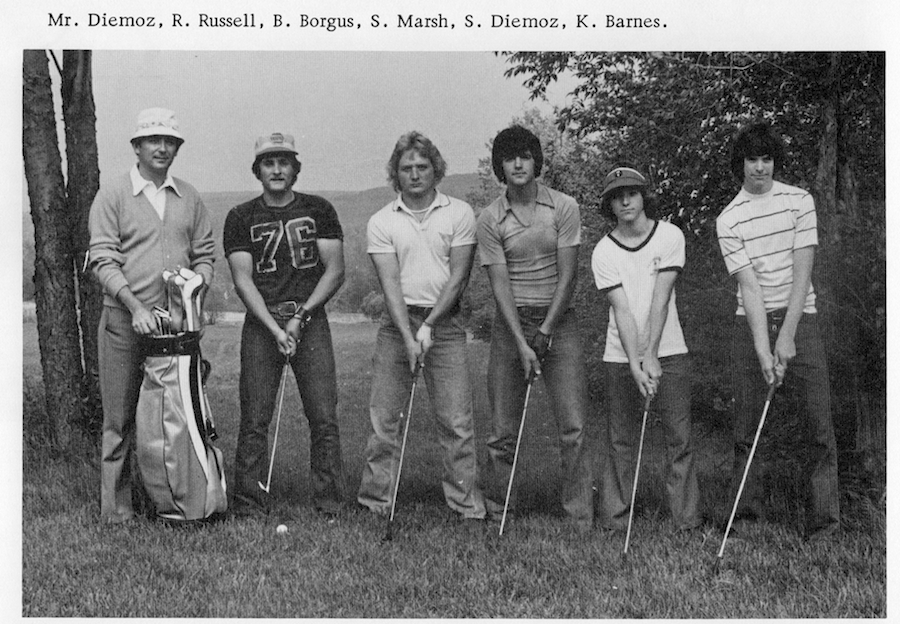 Keshequa Central School Golf Team in the 1977 Yearbook
Copies of clippings, artifacts, and other items related to this sport can be contributed and will appear in this section.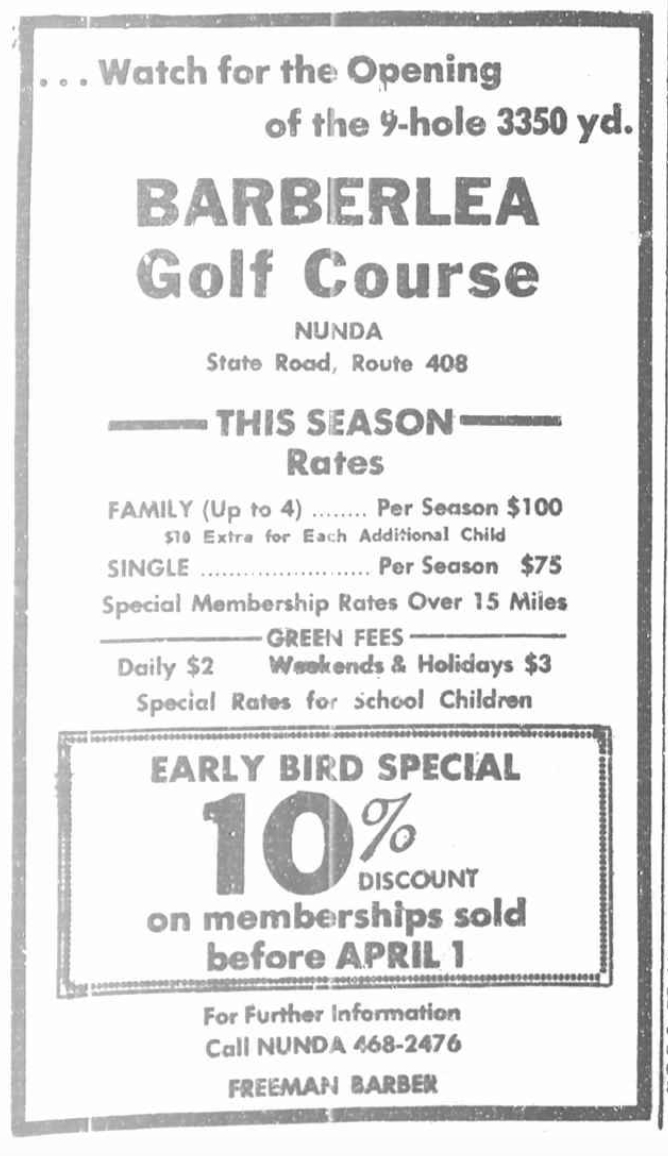 Nunda News March 24, 1966