Honoring our Heroes

from Keshequa Central School
Our Special Display Cases
at Keshequa Central School
Our School currently is honoring the soldiers and sailors from Keshequa with two display cases.
The Displays were created by Mrs. Clancy (Keshequa Staff member and parent of a soldier), the Star Committee and the Nunda Area Veteran's Team, in cooperation with the Middle School Student Council, the Library Media Center and the Keshequa School Administration.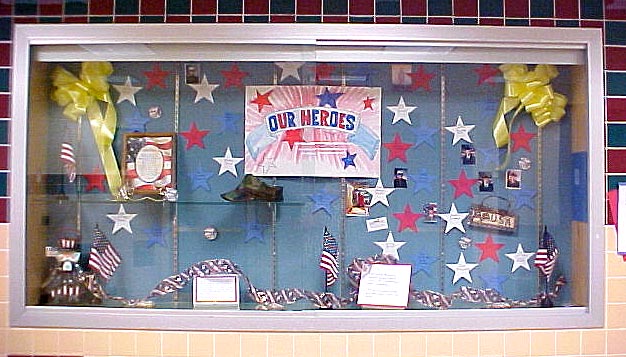 This display case is dedicated to the men and women in the Armed Forces who were former students at Keshequa. The display includes the names of our soldiers and sailors, along with some photographs. Information regarding the individual alumni and upcoming events are also posted in the display case.
The Display is located in the Middle School Area across from the Computer Lab door. Visitors are welcome to see the case during normal school hours. Please enter at the District Office (old bus circle.)
| | |
| --- | --- |
| | |
| The display includes a patriotic and military memorabilia and information regarding individual soldiers. Any upcoming school events related to these veteran will also be posted. | Parents and other relatives of the soldiers and sailors are invited to provided photographs of their sons and daughters for the display case. |
Our other display cases are located in the Library Media Center. These cases continue the individual flags that were dedicated to each soldier or sailor at our school assembly on April 8th. These flags will remain on display until they are given to the individual when he or she returns home.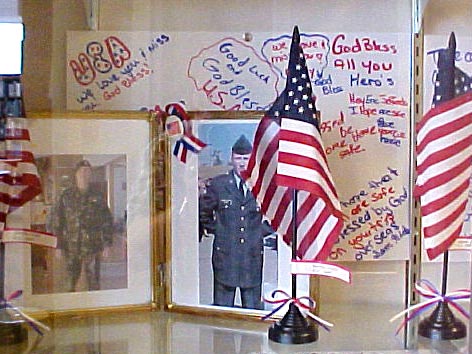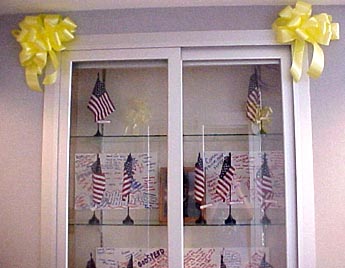 The Cases also continue posters signed by Keshequa Students for their Heroes. More flags will be added as we learn more names!
The Flags are on display during regular school hours, please enter at the nearby District Office entrance. Families are invited to place small items or framed photographs with their flag. Families should also notify the School when their Hero returns home!
See our Special April 8th assembly
See a list of Soldiers and Sailors from Keshequa Central School
Learn more about the Nunda Area Veteran's Team
This web page was created by the Nunda Area Veteran's Team. We thank the Nunda Historical Society for providing these pages on the Nunda History website!
Go to the Main Page of Nunda History.org!