Nunda Area Veterans Project

A Keshequa Middle School Social Studies Activity
Keshequa Central School, Nunda NY
Participate in our Nunda Area Veteran's Survey
Go to the Veteran's Data Page
Go to the Project Main Page
Read a special Veteran's Day poem by KCS student
return to NHS Main Page

Project Goals

Veterans have been an important part of the Nunda community from pioneer times to the present day. Their sacrifices and contributions to our Nation, State, and community have shaped our lives in many ways. We believe that it is important that we recognize and remember the brave men and women who have been our leaders, citizens, neighbors, and family members. The purpose of Nunda Area Veterans Projects is to honor our veterans through the collection, preservation, and presentation of their records, names, and stories.

Project Background

An initial attempt to collect veteran's data was conducted in the 7th and 8th grade Social Studies classes a few years ago as part of a Veteran's Day project. In the spring of 2002 faculty members at the Keshequa Middle School formalized the project and submitted a proposal to the New York State Archives for possible funding. A LGRMIF grant for $3,597 was awarded in the Summer of 2002 which allowed the purchase of necessary project supplies and equipment.

The Project Team

The 2002-2003 project team consists of
7th Graders - Nathan, Mat, and Jason
8th Graders - Sarah, Kristin, Alaina, Kassandra , Charles, and Josh
Parents: Mrs Trim, Mrs Kreuzer
Team Leader: Mr. Tom Cook
Grant Coordinator Mr. Howard Warren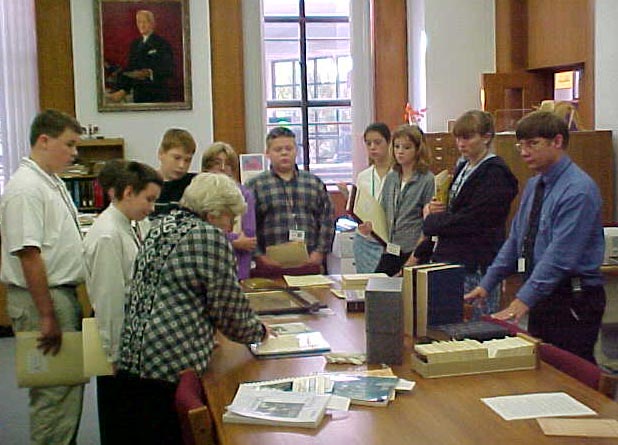 Our Project team receiving training from Mrs. Leah Kemp, Librarian at the Rochester Museum and Science Center

Project Activities

During the 2002-2003 school year the Project Team will
1. Receive orientation and training
2. Survey local government and organization records for veterans materials
3. Compile a list of sources of local veteran records
4. Collect basic information on area veterans from the above resources and Nunda area students and families
5. Create a historical database of local veteran information.
6. Produce a cd-rom to be used at the school and local libraries.
7. Add database to the Nunda Historical Society website nundahistory.org
8. Create and present a multimedia presentation for local organization and groups.
9. Organize future data updates and project activities.

Current Work and News

We continue to collect individual veterans survey and is currently entering them in our databank. We currently have entered about 80 individuals. You can view the current data bank on line using the links below.
We have also completed our surveys of Bell Memorial Library, Nunda Village Clerk, Livingston County Historian and County Historical Society, and our local VFW and American Legion Posts in Nunda and Dalton. These surveys are on line.
Team members Nathan and Jason conducting a field survey
at the Village Building with the held of our Village Clerk, Mrs. Walker
We also continue to maintain a display at school which holds a special flag for each of the former KCS students who are currently serving our Country.
The team has now "graduated" into High School, but their contributions to honoring our area veterans and preserving their history continues through these pages!
Go to our Nunda Area Veteran's Survey Page
Return to the Nunda Area Veteran's Team Page
---

The Project Team would like to express our thanks to the Nunda Historical Society for allowing us to post our project pages and data on nundahistory.org.




---



return to NHS Main Page
---
nundahistory.org is the official website of the Nunda Historical Society.
You can address comments or questions to the Nunda Historical Society or Tom Cook, webmaster
All rights reserved 2002