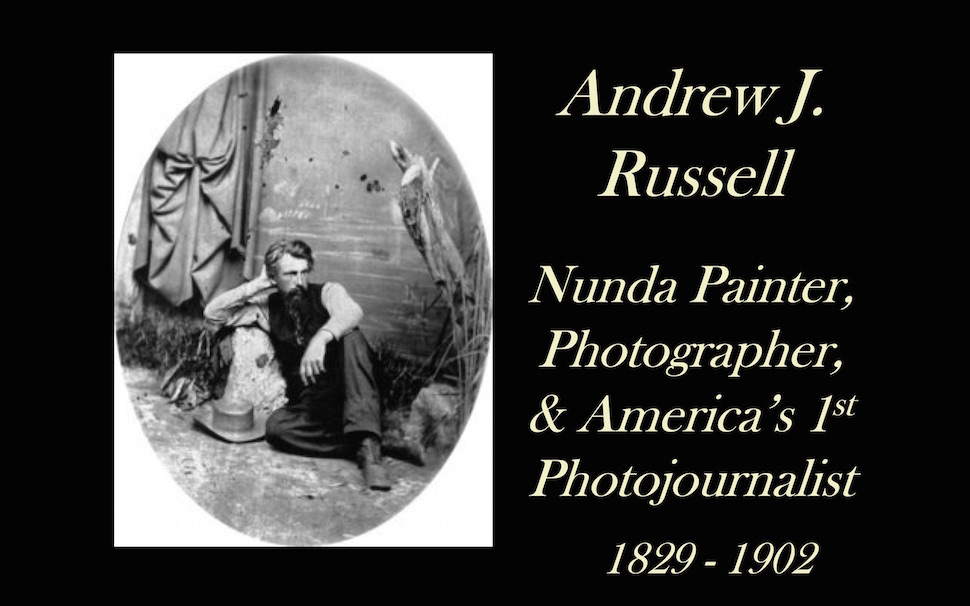 Andrew Russel's father Joseph Russell settled in Oakland in 1825 and moved to Nunda in 1838. Russell, born in 1829, was listed as one of Nunda's "painting artists" by 1851 when, at age 22, he was teaching penmanship at the Nunda Literary Institute until it burned in 1859. By the late 1850s Russell had also taken up photography and this photo may have been taken in his studio, possibly a Select School on Church Street. His reputation as an artist had already earned him several important commissions for paintings and by the middle of 1860 he had opened a studio in New York City.
During the Civil War, in August 1862, Russell enlisted in the 141st New York Volunteers and was an official Army photographer, the only soldier-artist known to have served in the Civil War. Captain Russell started in Washington but in 1863 was assigned to General Herman Haupt's U.S. Military Railroad Construction Corps. active in the crucial Virginia sector of the war facilitating the movements of the Armies of the Rappahannock, of Virginia, and of the Potomac.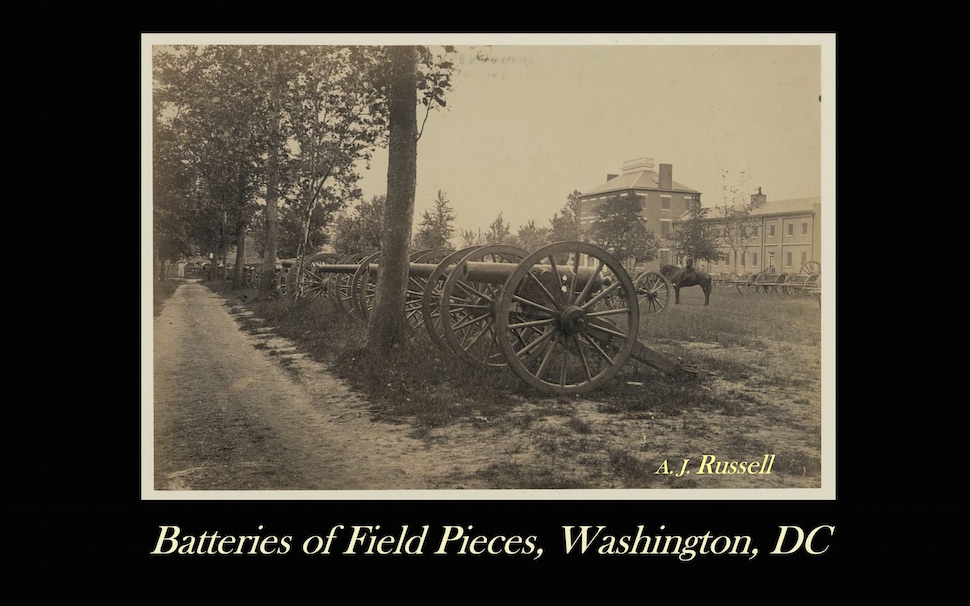 Russell documented bridge building activities, railroad construction techniques, camps and supplies of the Corps. He also photographed troops, battlefields and combat aftermath scenes. His work provided some of the most coherent documentation of the war. He photographed at Marye's Heights during the battle of Fredricksburg, at Petersburg, Alexandria, and the fall of Richmond.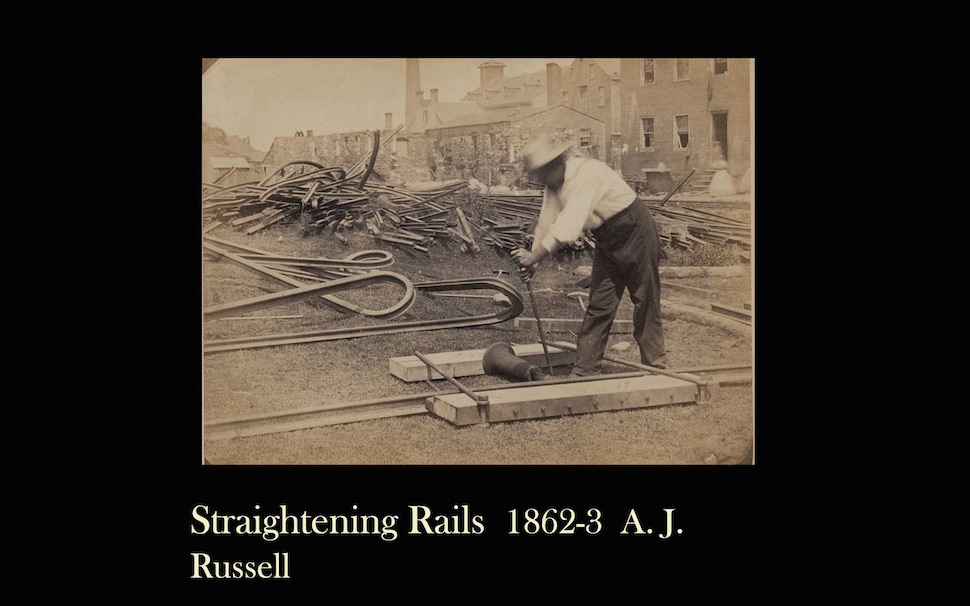 Russell's large camera, bottles of chemicals and "window-pane" glass were transported in a crude horse-drawn darkroom. In spite of the conditions in which Russell worked, the quality of his photographs is remarkable. The artistic quality and usefulness of his work were both highly valued by the government in Washington and his images were published in special albums and given to visiting dignitaries. One of these albums has long been in the Virginia Historical Society Collection in Richmond.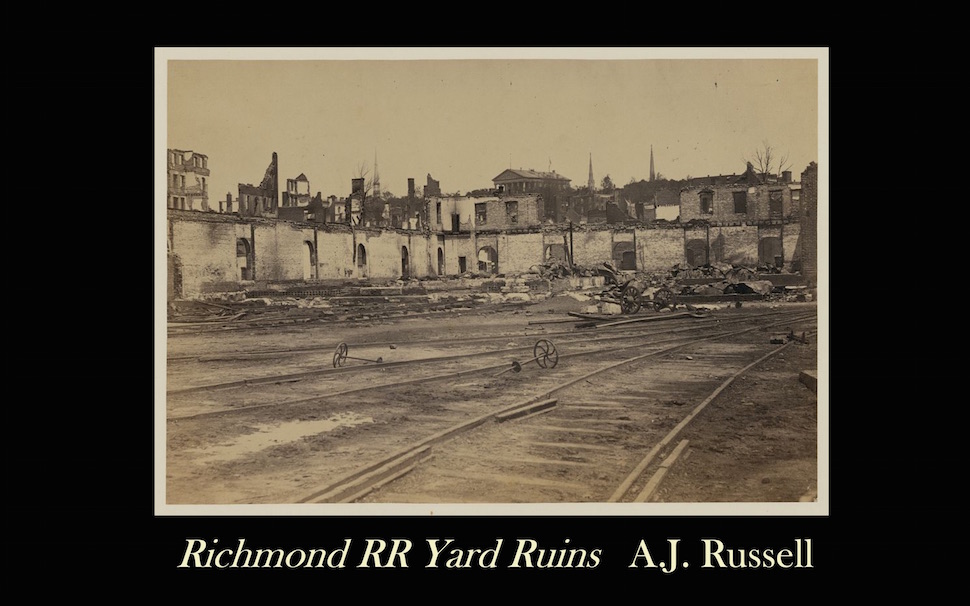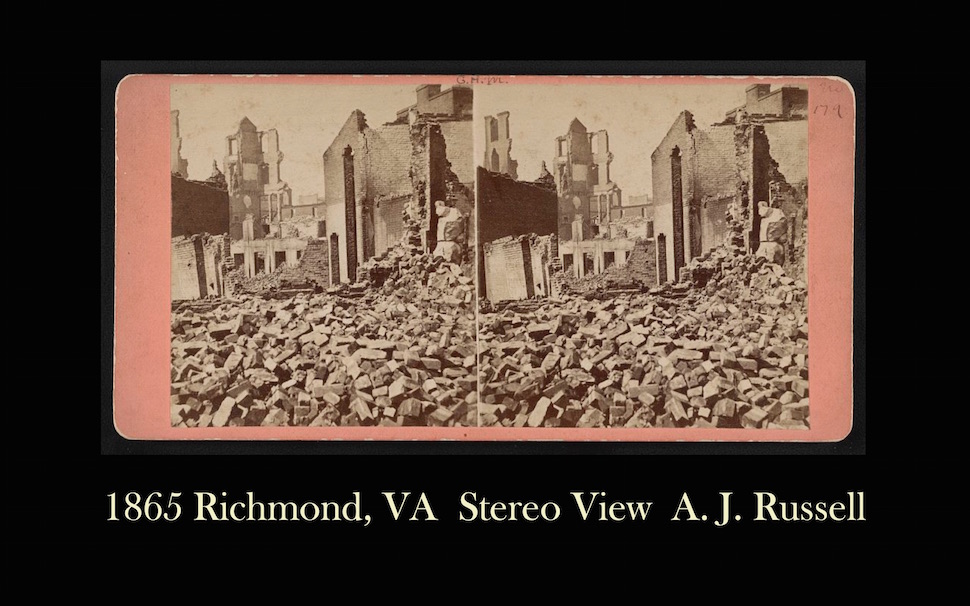 Unfortunately, Russell's renown as a Civil War photographer was later forgotten and many of his best images were attributed to Matthew Brady or Brady's associates. When two more albums of Russell's images surfaced in 1978 and 1980, Civil War photohistorians were able to correctly identify these images as Russell's work. They also discovered the existence of images that had never been seen before, such as President Lincoln's Funeral Car.

Andrew J. Russell's "United States Military Rail Road Photographic Album," a magnificent album with 107 albumen prints depicting the railroads, battlefields and landscapes of the Civil War sold at auction in 2011 for for $156,000.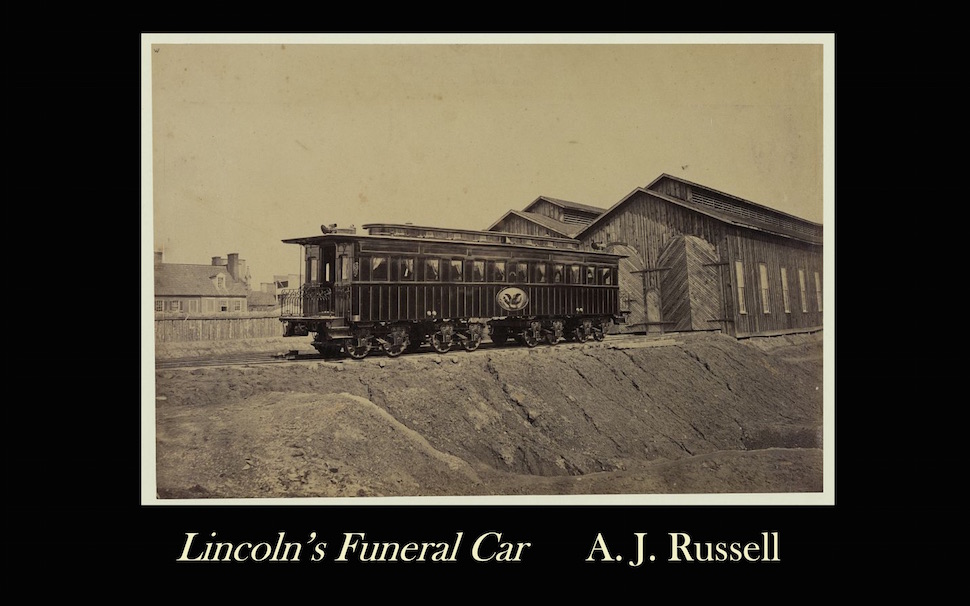 After the War, Russell was hired by the Union Pacific as their Official Photographer to document the building of the transcontinental railroad during the years 1868-1869. In this position he made over 200 10" x 13" wet plate negatives along the route and, with four assistants, made more than 400 stereographic negatives. One hundred years later, in 1969, all of Russell's negatives were discovered in the archives of the American Geographical Society in New York. They had been mistakenly attributed to Stephen J. Sedgwick, a nineteenth century lecturer who had gained considerable prominence with his "illuminated lectures" on world religions, natural history and the Pacific Railroad.
As he traveled west, Russell photographed Native Americans, pioneer settlers, and scenic views along the route. All of Russell's glass negative are now at the Oakland Museum of CA (OM:CA). A recent exhibit "Pushing West: The Photography of Andrew J. Russell" may be viewed
using this link
. The entire Andrew J. Russell Collection may be viewed
here
.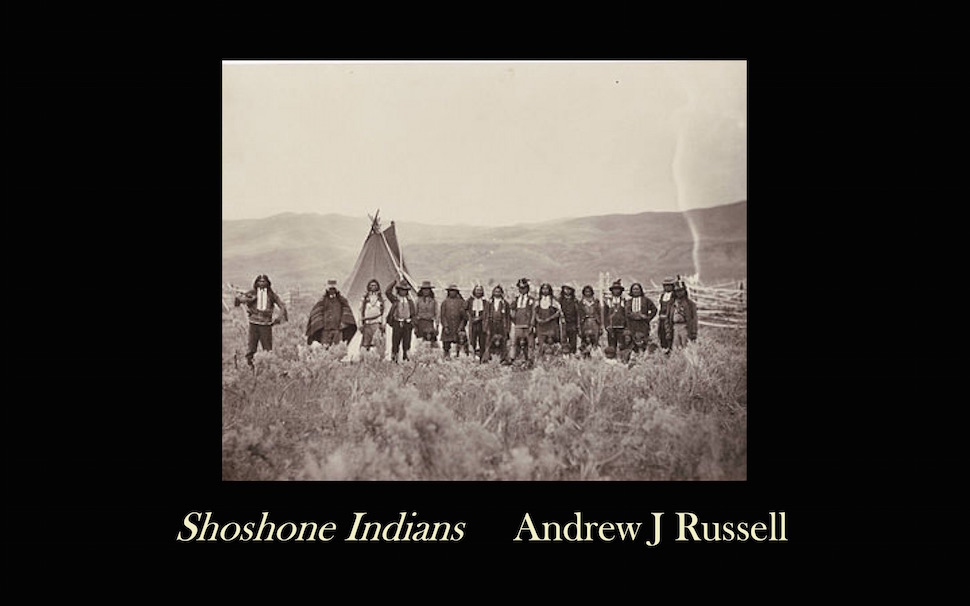 Russell made three trips along the route, one in 1868 and two in 1869. He used an outdoor camera of his own design, which he described in "Anthony's Photographic Bulletin" in 1870 as "…compact, durable, light, and convenient, and is far from being complicated in its construction…" He also used a stereoscopic-view camera, producing double image negatives. Russell published over 400 of these images when he returned to his New York studio in 1870 and they were published again later by promoter/entrepreneur Sedgwick who touted them as his own.

In May1869 Russell took one of the most famous images in American history, "East and West Shaking Hands at Laying of Last Rail" upon completion of the Transcontinental Railroad. What Russell had compiled was a visual and historical record of this great achievement, resulting in an important contribution to both American photography and American history.

A photograph of this Ceremony with Flag and Camera sold at auction in 2010 for $36,000.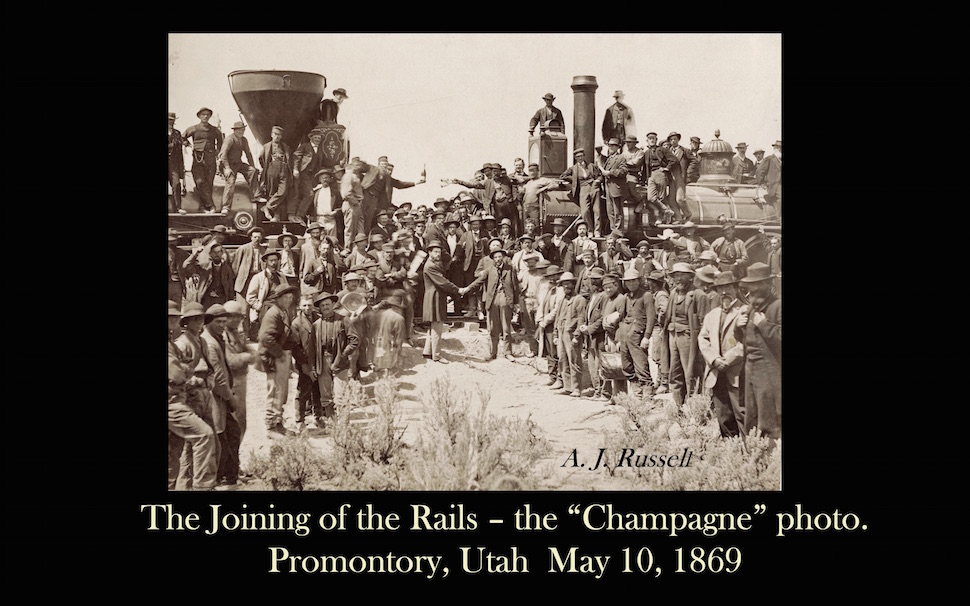 By the late 1850s, methods were found to photo-sensitize canvas surfaces on which images could be projected and fixed. The artist then painted directly on the canvas which would then be varnished and placed in an ornamental frame. Frequently, these images are not easily recognized as being based directly on a photo image.

While Russell was a painter before he was a photographer, very few of his paintings have surfaced. However, it appears he toured the Central New York Finger Lakes area in the late 1850s taking photographs of towns from a distance and then painting on top of the images projected onto the canvas.

Two Russell paintings from this period were restored by West Lake Conservators in Skaneateles, NY in 2001 and 2002. The painting shown here is "View of Bath From the West," an oil on canvas measuring 27" h x 42" w, owned by the Steuben County Historical Society in Bath NY.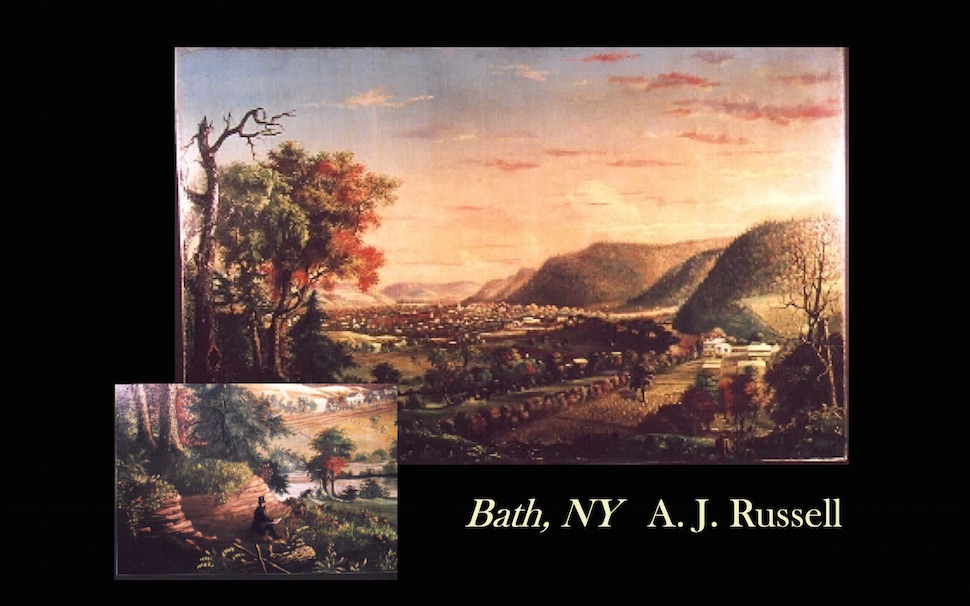 The second Russell painting is "The View of Cayuga Lake from Pumkin Hill 1856," a 27" h x 40" w oil on canvas owned by the Howland Stone Store Museum (Sherwood), Aurora, NY.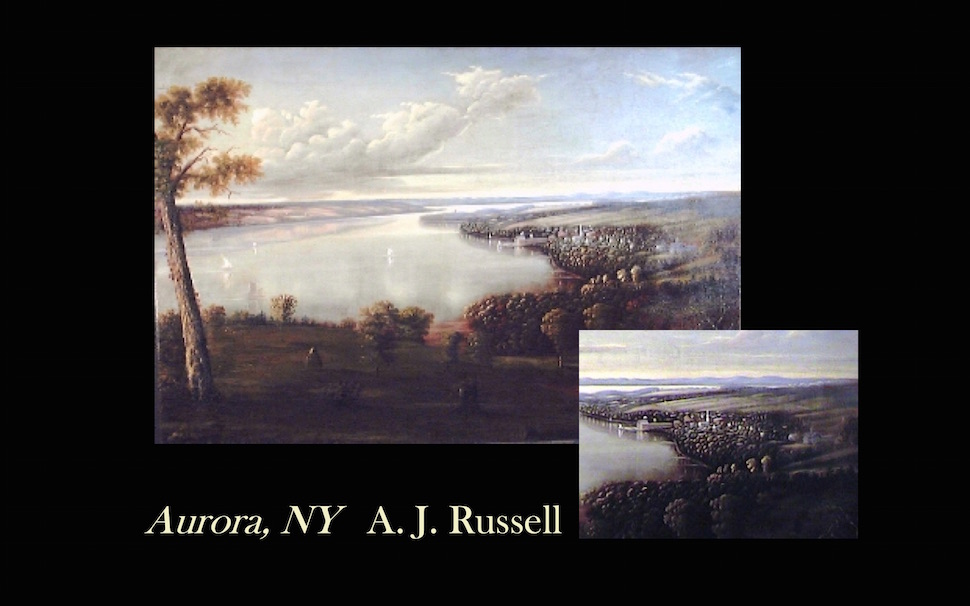 William S. Johnson's "Nineteenth-Century Photography, An Annotated Bibliography 1839-1879" states that, after returning to NYC, Russell "…joined Frank Leslie's Illustrated Newspaper as a staff photographer and was one of America's or the world's first photojournalists – traveling to locations and providing photographs for "news articles and feature stories". "Russell was an active and valued member of Leslie's staff for many years, perhaps until 1891, the year he retired to Brooklyn, where he died in 1902."

Andrew J. Russell possessed a keen sense of perception and a remarkable ability to translate what he saw into sketches, paintings, photographs, and even words. He was equally gifted in all these arts.

This self portrait is in the OMCA Collection.