Nunda

Historical

Society

Nunda

Livingston Co

New York
return to NHS Main Page
return to the History Room
---
3 Views of the Centennial Celebration, 1908
A grand celebration was held in Nunda from August 9th - 15th of 1908. The images below document two of the parades held during the week.
All images are Real Photo Postcards in a private collection.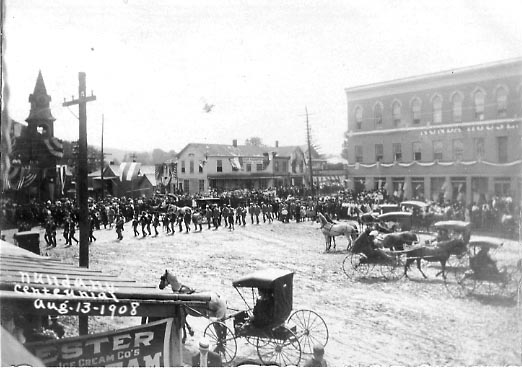 This real photo postcards above and below show the "Grand Parade of Fire Companies" that was held during "Firemen's Day" held on Thursday, August 13th. The photos were taken looking down on State Street from the second story of one of the buildings on the east side of the Square. In the above photo the parade passes in front of the St. John's Hotel.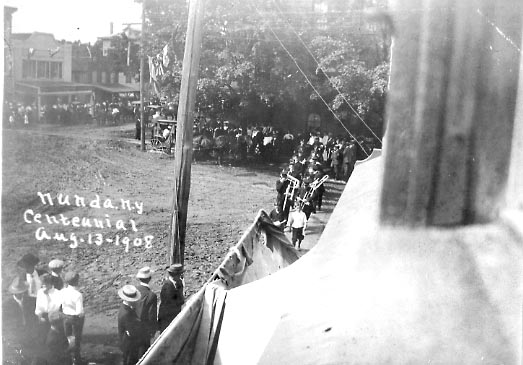 In the above image the photographer has now swung his camera to the North and has captured the local band crossing East Street from the Livingston Block.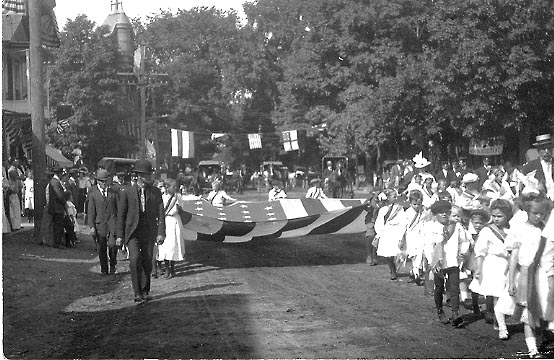 This image shows a different parade. This is probably the Children's Parade which was held on Saturday, August 15th. . The marchers are heading south on State Street. The ornate corner of the Union Block is visible in the upper left.
return to NHS Main Page
return to the History Room
---
nundahistory.org is website of the Nunda Historical Society.
You can address comments or questions to the Nunda Historical Society or Tom Cook, web master
All rights reserved 2002