The Town of Nunda Bicentennial Committee announces the reprinting of Tink of Nunda, An Autobiography by Clarence E Koeppe, first published in 1971. This edition issimilar to the original in that it will consist of a hard cover with a vintage dust cover. However, the 180 plus pages includes a new chapter on Clarence written by his daughter, Mrs Mary Jane Koeppe Patton, and one on the Koeppe House of Vermont Street by Thomas Byrnes, whose family owned the house for over sixty years. There are also several pages of photographs of Nunda as it was in Tink's day.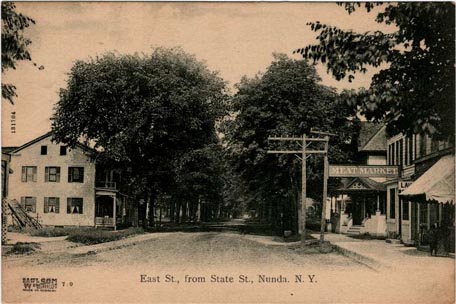 Discover the life of a young boy growing up in small town USA, specifically an agricultural village in Western New York State, just before the turn of the last century. Many changes occurred during this time with drastic economic, political, social and ethical effects. Tink noted that he was "privileged to live during this wonderful era of expansion and development."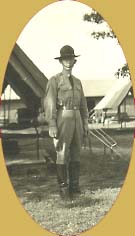 (Left: Clarence Koeppe in WWII; Right: East street when "Tink" was a boy)
Experience these bygone days with Tink and his entertaining stories as he reflects on: is ancestors, his family with their small house, modest life style, and even a few family skeletons; his neighbors and many interesting village characters; his childhood friends and games they enjoyed; the impact of school and church; the responsibility of raising farm animals; his many odd jobs such as picking hops, as a salesman, and clerking in the local general store; his fascination with the abandoned canal and active railroad that passed behind his house and Wild Cat Gully, a little father away; and his love of Nunda, the hometown he continued to visit on a regular basis for over sixty years.
After leaving Nunda, Clarence "Tink" Koeppe graduated in 1914 from Colgate University, where he was named to Phi Beta Kappa. He then earned an A.M. and PH.D from Clark University, Worcester, Massachusetts in meteorology and climatology. Dr. Koeppe taught science in Pennsylvania high schools and later became professor and lecturer in geography at Southwest Missouri State College, Springfield, and San Diego State College. He was the author of magazine articles and other books, including Weather and Climate.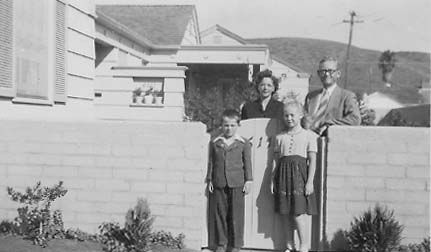 (Right: The Koeppe family in their California Home, 1950)
Serving in the Signal Corps of the US Army in both World Wars, the author was retired with the rank of Colonel. When Tink of Nunda was published, Dr. Koeppe and his family lived in La Jolla, California.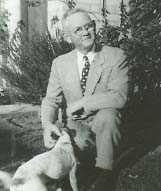 (Left: Clarence and friend, 1960's)
Copies of Tink of Nunda are now available at $25.00 (plus $4.00 if shipping is required.) You may order your copy by sending a check made out to the Town of Nunda Historical Society, P.O. Box 341, Nunda, NY 14517. You may also want to use our handy order form!
This book is also available at Bell Memorial Library, the Nunda Family Pharmacy, and the Government Center.