Nunda

Historical

Society

Nunda

Livingston Co

New York
return to NHS Main Page
return to the History Room
---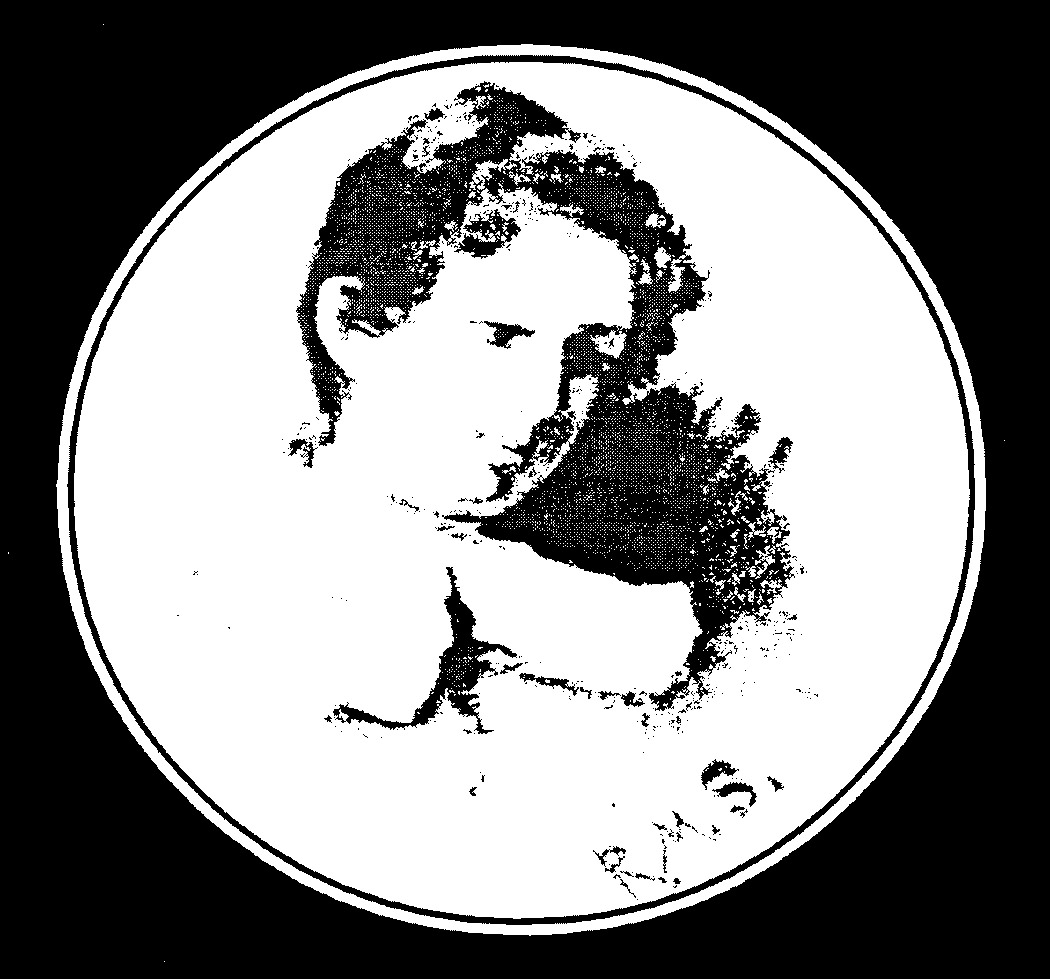 ROSE M. SHAVE
NUNDA PAINTER
1848 ­ 1925

By Joan Schumaker
Nunda's gifted painter Rose M. Shave was born in 1848, the youngest of four children of William and Elizabeth Shave.
In 1876 Rose attended Ingham University, the first women's college in the United States, located in LeRoy, New York. Here she was an art student of Prof. Lemuel M. Wiles, a native of Perry. Prof. Wiles had studios at both Ingham and Silver Lake that attracted students from all over the United States. In December 1877, an article in the "Nunda News" stated that "The proficiency she displayed in painting led to her engagement as a teacher after the first year in this noted art school." This was the first of many references of Miss shave in the "News".
Rose taught at Ingham for 16 years, replacing Prof. Wiles as Director of the College of Fine Arts in 1887. She also conducted art classes here in Nunda during vacations. For five weeks in summer 1884, Rose offered lessons on Tues., Thurs., and Sat. from 9 AM ­ 12 or 1:30 ­ 4 PM for $1 per day. In August 1884, seventy paintings by Rose and eleven of her pupils were shown at a reception attended by 160 people. The "News" reported this event as "A notable display of fine paintings."
One of Rose's oil paintings sold in New York City for $75 in 1884. In 1885, a life size crayon portrait of C.T. Metcalf, an elder in the Presbyterian Church, was on display at the local post office. This work was judged a masterpiece by local critics. The "News" also mentions that Rose "Sold a handsome screen to Philadelphia party for $75."
The summer of 1888 found Rose studying in Paris at the Academy Julian. An exhibition of her work in 1889 resulted in an article in the "Rochester Union" which noted "the display was remarkable, chiefly for variety, elegance and originality of design." Included in this show were local LeRoy landscapes an d some from the eastern part of the State.
In 1892 Ingham closed and Rose returned to Nunda where she and her sister Belle, also an artist, had just completed building a residence and studio at 49 East Street. By 1884 Belle had completed a two year course at an art school in Philadelphia and was offering instruction in drawing and painting. The sisters worked in oil, watercolor and crayon, but were mainly noted as watercolorists. Belle died in 1893, at about 45 years of age, but Rose continued to conduct painting classes at her home for all levels of students including advanced instruction for other art teachers. In 1895 the "News" noted a "South Dakota woman here to study painting under RS."
By 1895 critics ranked Rose third in the United States in Watercolor paintings of flowers. In 1898, the Academy of Design in New York accepted two of her paintings for exhibition. She also exhibited paintings around the country at places such as the Cambridge Valley and Danbury fairs in New England.
Marjorie Conrad Frost, former Nunda Historian, recalled Rose as follows:
"When we were kids and lived across the street from Miss Shave (as we always called her) I was fascinated by her and her house. She was a rather small woman (short anyway) and I always remember her wearing an artist's smock. She was never too busy to show us how to make simple little sketches or to let us look at the unusual art objects which were everywhere in the house. She must have brought them from France and Italy and other places she went to study and exhibit. She held receptions every year and they were high-class social events. They were also showings of her work and sometimes were held a little before Christmas so people could buy paintings for gifts, etc." Note: A newspaper article gave prices of from $1 to $5 for her paintings.
"---There was a fence where the hedge is now and once Bob and I reached thru the fence and picked a few currants from a bush on Miss Shave's side. She saw us and promptly reported the theft to my mother - and we were punished for it. Eating those few sour currants was really punishment enough! But on the whole she was very good to us kids - probably better than we deserved."
Miss Shave lived in her East Street home until 1925 when she died at age 77. A collection of her paintings was on display at the Bell Memorial Library in 1926. Local residents treasurer their Rose Shave paintings.
NUNDA HISTORICAL SOCIETY
ROSE M. SHAVE COLLECTION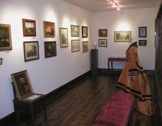 In 1986 the Historical Society was extremely fortunate to receive 20 paintings, 7 watercolors and 13 oils, from Mr. George Toms of Rochester, a grand nephew of Rose Shave. Betty Van Deventer Johnson donated a beautiful framed water color, a grape still life. This painting was a wedding gift to her parents in 1911. In 1995 Joan McMaster Schumaker donated another painting, bringing the total collection to 22.
Unfortunately, 21 paintings were unframed and all 14 oils needed conservation work. The Society concentrated on restoring, cleaning and framing the oils in 1997 and on framing the water colors in 1998.
In the past eleven years the Collection has grown to 33 Rose Shave paintings. Ruth Foster Cipriano donated three framed water colors (including one miniature), Patricia Galbraith and the Jane Wagor Mann Estate each donated a framed watercolor, and the Robert and Virginia Walker Estate donated two very unique oils. These unframed paintings each consist of small landscape studies grouped on academy boards, one with 13 images and one with 3 images. These oils received extensive conservation work in 2006 and are now in the Gallery with lovely new frames. All conservation work on the Rose Shave oils has been completed by Diane Satterfield Berlyn of Hawkridge Studios in Penn Yan, NY.
Joan Schumaker donated two additional framed water colors and two oil paintings. One of the oil paintings had already received conservation work, but the second, "Still Life with Roses," and its period frame are in need of extensive conservation due to water damage. The Society is currently seeking grant funding and donations for this conservation project.
The Society is fortunate to have received three New York State Council on the Arts Community Arts Grants, administered through the Genesee Valley Council on the Arts (GVCA), to assist with the conservation and framing of the paintings in this Collection. These grants in 1997, 1998, and 2006 covered $2,400 of the $7,200 needed for these paintings. The Marjorie Ostrum Memorial Fund and additional individual donations were used to complete these projects. THANK YOU to all who have contributed to the preservation of this marvelous Collection.
The Rose Shave Collection has been featured in numerous programs since 1997, was on display at the Nunda Branch of M&T Bank from 1998 to 2000, and was part of over 50 works in a Rose M. Shave Exhibit at the Bertha V. B. Lederer Gallery, SUNY Geneseo, in 1999.

Joan Schumaker July 2009
by Joan Schumaker
The Town of Nunda, a 24 by 12-mile tract of land within the Morris Reserve, was founded in 1808 as a part of Allegany County, located in the southern tier of Western New York. The name is from Nunda-wa-ono, a Seneca Indian tribe that once lived in the beautiful hills and valleys along the Genesee river and Keshequa stream within the Township of Nunda. In the Seneca language, "Nunda" relates to hills and a popular translation is "Where the valley meets the hills". Dr. Arthur C. Parker, in "History of the Genesee Country", describes this region as follows: " in all the world there is not a place like unto it for human habitation." Nunda residents and visitors continue to experience a thrill upon viewing the pastoral scenery of the Nunda valley from one of the surrounding hills.
By 1829 the original Nunda Township had been reduced to its present size, of approximately 6 by 6 miles, no longer including the Genesee River with the impressive gorge and water falls that are now part of Letchworth State Park. In 1808, only three pioneer families lived in what is now the Town of Nunda. By 1830 the population had increased to 1, 291 and by 1840 there were 2,636 residents. The population peaked at nearly 4,000 with the building of the Genesee Valley Canal in the 1840's, but had fallen to less than 3,000 by the early 1880's. It is interesting to note that the 1990 census shows a population of 2,931.
The Village of Nunda Valley, later to be shortened to Nunda, was first planned by Charles H Carroll in 1824 but was not incorporated until 1839. Four Seneca camps or small villages were once located within the Village of Nunda. These Seneca villages consisted of log structures not unlike those of early pioneers of this region. In 1790 two small villages could be found opposite each other on the Chautauqua Hollow Trail which became State Street. Until 1813 a third Seneca village was along the creek behind the Keshequa High School. The fourth village was located west of Buffalo and Gibbs Streets until 1818. Nunda's village square, once a frog pond, is at the intersection of the Chautauqua Hollow Trail and the Keshequa Trail which follows the path of the Genesee River when it flowed through this valley. Within the Village of Nunda the Keshequa Trail became East Street.
The first post office was established in the village in 1831. The main business district, consisting of a village square bordered by two-part commercial blocks, known as "Merchants Row" and the "Farmers' Exchange", was built between 1831 and 1834. These commercial blocks are still in use today. With completion of the Genesee Valley Canal from Rochester to Mt. Morris in 1841 and good roads for transport between Mt. Morris and Nunda, the Village quickly grew from a pioneer settlement to a community of fine houses, several churches, hotels, all kinds of commercial establishments, factories, a bank, a newspaper, an academy, and numerous social organizations such as the debating societies of the Nunda Literary Institute. Due to politics and construction delays the canal did not reach Nunda until 1851 and was not completed until 1861.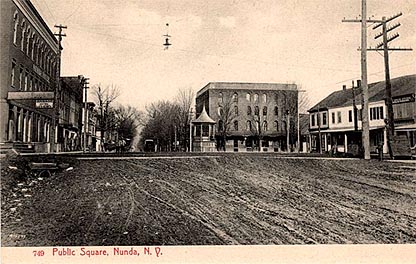 The Genesee Valley Canal connected the Erie Canal in Rochester with the Allegheny River south of Olean, a distance of over 100 miles. It was 42 feet wide at the water surface, 26 feet wide at the bottom and four feet deep with 7-foot banks (3 feet above the waterline). A total of 112 lift locks with an average lift of 10 feet were needed to traverse the nearly 1000 foot elevation change from Rochester to the summit at 1488 feet above sea level and to descend to the Allegheny River. The GVC has the highest canal elevation in the world. These locks were 90 feet from gate to gate and three were located within the Village.
The remains of Lock 42 is just west of State Street (Route 408) at the northern entrance to the village across from Vermont Street. The canal passed behind the many business that lined State Street, continued at an angle to West Street, passed under a bridge at Fourth Street and through a lock before reaching another bridge at Second Street, passed west of the Village parking lot and under a bridge at the end of First Street where the third lock was located, and turned west when it reached Portage Street (Route 436). Fifteen additional locks were required to reach Oakland, about a mile west of the village. Lock 42, a canal warehouse, and several stately mansions built overlooking the Canal at the end of West Street are the only remaining evidence of the canal within the Village.
"The old canal was beautiful and romantic. It had fresh green banks, clear water
and interesting locks. The white barges, most often laden with newly sawed lumber, were
towed by mules wearing bells around their necks and red or blue tassels in their ears."
----- Reminiscences of Mrs. M. M. Wilner, 1852.

The Genesee Valley Canal operated only until 1878, but during this time, fortunes were made as it carried away the forests of Livingston and Allegany counties and the grains produced on the fertile farmlands. Cheap transportation for merchandise, groceries, and other freight from New York City, Syracuse and Rochester also added to the prosperity of the village during this time.
One of the reasons contributing to the demise of the Genesee Valley Canal, was the introduction of railroads into the area in the early 1850's. Nunda Station, about three miles south of the village, was the Nunda station for the Erie Railroad. The first train arrived in January 1852 and by 1853 this branch of the Erie was open from Buffalo to Hornellsville, a distance of 91 miles. Beginning in 1874, the Rochester, Nunda and Pennsylvania Railroad, known locally as the "Swains Branch", provided service through the village for only a few years. In 1882, the Village of Nunda finally obtained rail service, when the Genesee Valley Canal Railroad (later the Pennsylvania Railroad) was built along the line of the canal. The main rail line was built north of the village to avoid the steep grade between Nunda and Oakland and service was provided to the village on a branch line originating at Nunda Junction, about two miles northeast of the village. The depot, originally located at West Nunda, was moved to the corner of West and Second Streets in 1896.
Nunda Station, later known as Dalton, quickly became a thriving community with its own warehouses, post office, stores, blacksmith shops, mills, hotels, bank, church, school, produce merchants, livestock dealers, and medical doctors. Other hamlets in the Nunda Township never enjoyed the growth and prosperity that the railroad brought to Dalton. These communities were located at: Wilcox Corners (now known as Guy's Corners) on the old State Road between Nunda and Dalton; Sweetcake Hollow and Barkertown in the eastern part of the town on East Hill; and Coopersville off of Creek Road northeast of the village.
Without the canal and a major railroad, economic growth and prosperity for the Village of Nunda was at a standstill in the early 1880's. In spring 1882 Chauncey K. Sanders, editor of The Nunda News, and four other enterprising and forward thinking professional and businessmen formed what they called the "Association" and pooled their resources to build what would become the newest and fanciest business block in Livingston County. They purchased the former Holmes Hall lot, a prominent site on the corner of State and Second Streets, and hired Henry B. Gleason, a Rochester architect, to design their new building. Mr. Gleason designed a highly ornamented, but most functional, two-part commercial five-bay block building typical of the late 1800's. In April 1883, this massive commercial block was ready and the rural Village of Nunda now possessed an architecturally unique and most sophisticated structure that would come to be known as The Union Block.
The Union Block soon attracted much attention and trade from the Nunda region and continued to serve as Nunda's main commercial building for almost 100 years. The Nunda Post Office was located here for 66 years, a grocery store was housed here for 90 years, and a dry goods/department store for 85. Numerous other merchants and professionals thrived in this location over the years, making substantial contributions to all aspects of life in this rural community. Locally the Union Block is best known as the home of The Nunda News, one of the longest continuously published (1859 - 1982) and most successful weekly newspapers in the country. Chauncey K. Sanders, founder of the paper and one of the builders of the Union Block, started printing the paper here in 1883. While the presses stopped in the 1970's, offices for The Nunda News remained here until 1982, a few months short of 100 years. Nunda residents and many former residents living in distant places appreciated and depended upon this quality newspaper to learn about local events and provide an invaluable record of the history of the Nunda area.
Manufacturing in Nunda started with a cabinet factory on South State Street built by Henry C. Jones who arrived in about 1820. This became part of the Nunda Casket Works that was in continuous operation for more than a century, closing in 1979. Nunda's most famous industry was the Foote Manufacturing Company, founded in 1903 by Charles E. and Chester T. Foote. Their original 1903 plant, located on North State Street, was replaced by a large modern brick structure in 1913 and produced power concrete mixers that were being shipped across the country and sold oversees by 1918. Their mixer was recognized at the San Francisco Exposition in 1913 and in 1926 The Foote Company received the American Institute's gold medal, the first award ever made for road equipment. Continued improvements to their self propelled mixer-paver led to international recognition during World War II when their Multi-Foote 34E mixer was used to build runways wherever allied forces were located. The War Department recognized the Foote Company's war efforts in 1943 when the company and its employees received the first of three "E" awards, a joint Army/Navy Production Award. The Foote Company was purchased by Blaw Knox in 1948 but the Nunda plant was closed in 1955 with the business being moved to Mattoon Illinois.
The Nunda Casket Works building has been demolished and replaced with buildings occupied by a restaurant, post office, professional offices and other businesses. The Foote Company plant was home to a number of businesses and left vacant for a few years. The plant has undergone some renovation, including a slight reduction in size, and is currently the home of Seating, Inc. which specializes in the manufacture of chairs.
The southern portion of the Union block was facing demolition in 1998 but is currently undergoing renovation. In 1999 the Union Block was placed on the State and National Register of Historic Places and is the first building in the Town of Nunda to receive this recognition.
Dalton's main business district was mostly destroyed by fire in 1943. Over the years other businesses closed and a recent fire destroyed the post office and a restaurant. The restaurant has been rebuilt and a new post office is under construction. Trains still pass through Dalton but they are now part of the Norfolk-Southern Railroad.
The historic transportation corridor which was once the Genesee Valley Canal and later the Pennsylvania Railroad is now being transformed by the State of New York into the Genesee Valley Greenway, a 90-mile multi-use trail. Canal boats and trains are being replaced by hikers, bicyclists, skiers, equestrians and snowmobiles who will access the Village of Nunda by using the branch trail from Nunda Junction.
Numerous Genesee Valley Canal locks west of Oakland have been preserved and are now part of Letchworth State Park. The canal and railroad history is interpreted with a series of beautiful signs that begin at Oakland and follow Trail #7 and the Genesee Valley Greenway.
Sources Consulted:
Cook, Bill, Celebrating Our Past: Livingston County in the Twentieth Century, Livingston County Board of Supervisors, 2000.
Cook, Tom, Faded Glory: Parts I & II, Talking History; Nunda Times, March 29 and April 5, 1995.
Frost, Marjorie C., Early Years: Town of Nunda 1808-1983, Nunda Historical Society; Burt's Printing Service, Inc., Dalton, NY 1983.
Hand, H. Wells, Centennial History of the Town of Nunda: 1808-1908, Originally published: Rochester Hearld Press, 1908; Re-published: Heart of the Lakes Publishing, Interlaken, NY, 1993.
Kipp, David L., Locking The Heights: The Rise and Demise of the Genesee Valley Canal, David L. Kipp, 1999
_____ Dalton Historical Cookbook, United Methodist Women, First United Methodist Church, Dalton, NY, 1982
return to NHS Main Page
return to the History Room
---
dahistory.org is the official website of the Nunda Historical Society.
You can address comments or questions to the Nunda Historical Society or Tom Cook, webmaster
All rights reserved 2002