National Park System Celebrates 100 Years "100 Years of the National Park System – Emphasis on Yellowstone Park" by Barbara Kubiak is the program at the Nunda Historical Society, 24 Portage Street, Nunda, on Sunday, August 21, at 2:30 pm.
The National Park System is 100 years old this week and the Society is celebrating with Barbara's presentation of its history while viewing her beautiful photos. Barbara's audio-video presentation is in two parts. The first describes the history of our National Parks, starting with the perception of the need to preserve some of our "treasures," especially those contained in western lands acquired through the mid-1800's. It's the story of how the efforts of concerned Americans persuaded our government of the urgency to preserve these "for the benefit and enjoyment of the people." This resulted in the establishment of Yellowstone National Park, the first national park in the world! Of course, this was only the beginning of a struggle that continues to this day. Part I goes on to trace parks' history through the establishment of the National Parks Service in 1916 and concludes with what has proven to be the ultimate challenge for this department, to balance its obligation to preserve and conserve with the right of the American people to access and recreate.
Part II consists of images of Yellowstone National Park set to patriotic and nature-inspired music. Enjoy this informative and entertaining program and also see all that the NHS Museum and Rose Shave Gallery have to offer. This program is free and handicapped accessible.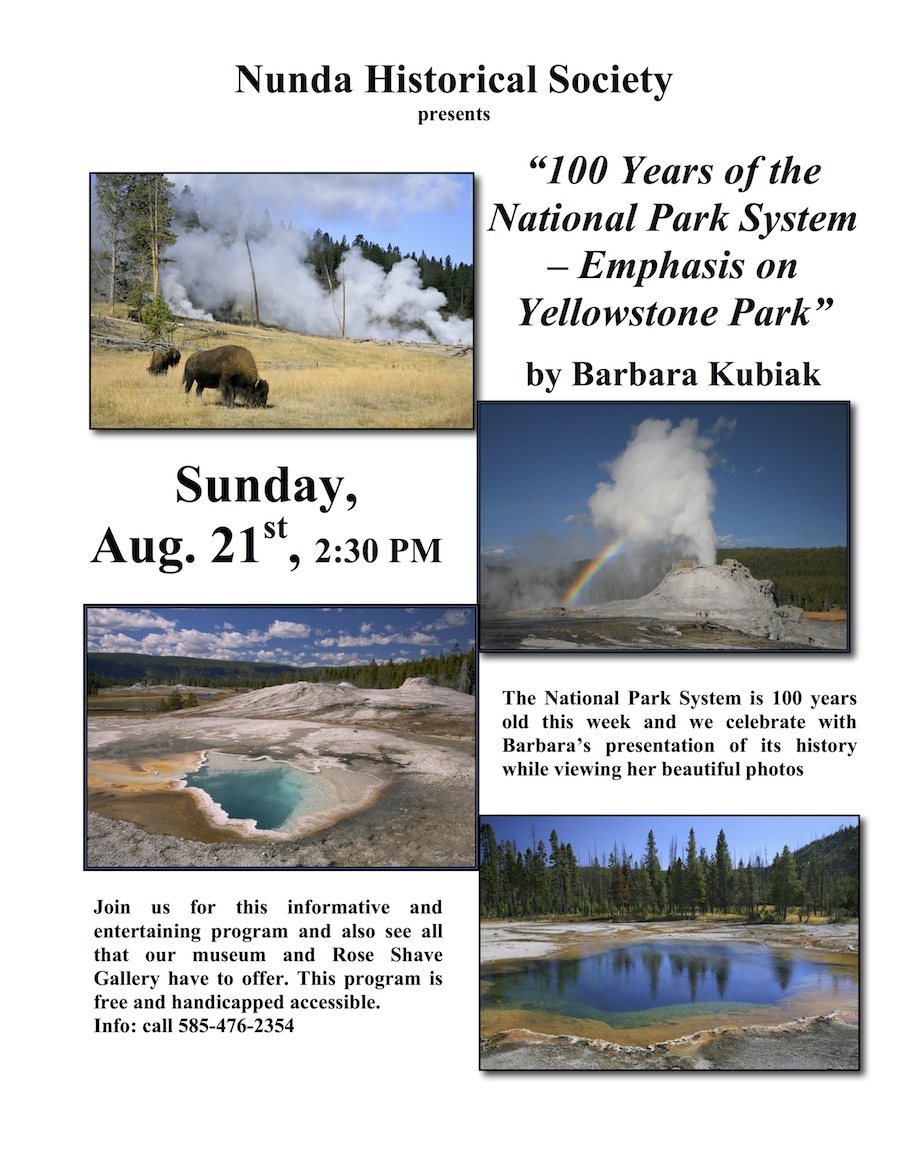 Here is the complete schedule for our History Discovery Day on August 13th!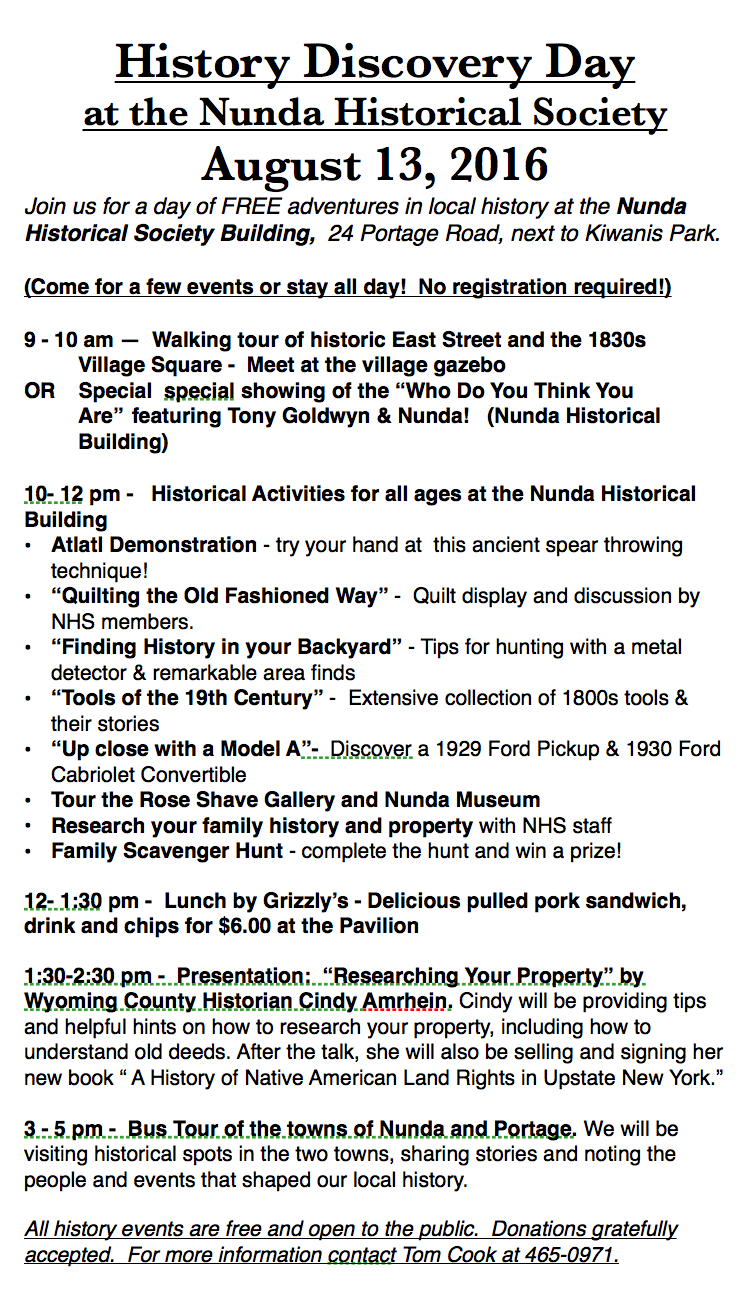 Nunda Historical Society Programs/Events for 2016
Note: All programs, unless noted otherwise, meet at 24 Portage Street in Nunda on the second Wednesday of the month (March – December) at 7PM. Regular programs are not being scheduled in January and February, but additional programs have been added in the spring, summer, and fall months.
Wednesday, March 9, 7 pm–"Early Women Physicians of the Genesee Country" by Jane Oakes. People may be surprised to learn that the Genesee Valley provided some of the earliest women physicians in the country.
Sunday, April 3, 1 pm – Open House (Dedication of the Stamp Annex, a newly renovated storage and work space and viewing of new exhibits telling the Story of Nunda,) & at 2:30 pm "Six Nations Artifacts" with Jim VanSickle sharing his collection of Six Nations artifacts and his experiences in collecting Iroquois items.
Wednesday, April 13, 7 pm – "Knives Can Talk! The Story of Robeson Cutlery Co." by Tom Kalcevic who will use their knives, household products and local history to tell the story of Robeson. The presentation will be a word and photo slideshow following the life of Millard Fillmore Robeson and detailing the 100-year history of the company he founded. The slideshow will be supplemented with show and tell items produced by Robeson.
Wednesday, May 11, 7 pm - Annual Meeting & "The Foote Company: Nunda on the World Stage" by Joan Schumaker. In 1903, the ingenious Foote brothers invented power mixer-paver machines that revolutionized all future highway and heavy construction. During World War II, Foote pavers were used around the world by allied forces to create airfield runways. The Annual Meeting will follow the program. Society members are urged to attend and guests are welcome.
Saturday, May 21 – 6th Annual Victorian Tea at the Holy Angels Church Parish Center on Massachusetts Street. Watch for details and plan to attend.
Wednesday June 8, 6 pm – Picnic & Special Musical Entertainment TBA
July - Watch for date and details on our Nunda Historical Society Summer Tour.
*Sunday, July 31, 2:30 pm – 'Joseph Lamb: the "Other" Greatest Classic Ragtime Composer' by Dennis James and Jen Conklin Lamb, a white accountant from New Jersey, grew up as an amateur self-taught pianist and became a top rank world famous published ragtime composer. He wrote beautiful piano rags that equaled or perhaps surpassed those of his friend Scott Joplin. Dennis will discuss Joseph Lamb's life and perform a selection of his compositions while Jen (in Mary Pickford show costume) will be the vocalist for Lamb's songs.
Saturday, Aug 13, – "Discovering Our Past - at the Nunda Historical Society" (formerly Nunda Area Homecoming) Visitors of all ages are invited to spend the day exploring local history and life in the past. A variety of presentations, workshops, and activities will allow you to step back in time and learn more about your family, property, and community. Watch for details. Sunday,
Aug 21, 2:30 pm - "100 Years of the National Park System – Emphasis on Yellowstone Park" by Barbara Kubiak The National Park System is 100 years old this week and we celebrate with Barbara's presentation of its history while viewing her beautiful photos.
*Sept 13–14 Nunda History Days Watch for details for this two-day biennial event featuring local history programing for area students and adults.
#Wednesday, Sept 14, 7 pm - "Haudenosaunee 101" by Freida Jacques This dynamic presentation provides a unique opportunity to learn about the Haudenosaunee from a Clanmother of the Onondaga Nation. Freida Jacques presents fundamental information about the Iroquois Confederacy, drawn from and enhanced by her own life experience and understanding of her culture, and invites the audience to ask questions and engage with her first-hand accounts.
Late September or Early October Fall Foliage Tour – Watch for details on our destination and plan to join us.
Sunday, Oct. 2, 2:30 pm - "Gregory's New York Brigade: Blue-Collar Reserves in Dusty Blue Jackets" by Dr. Valgene L. Dunham follows General Edgar Gregory's Brigade made up of NY regiments 187, 188, and 189, including their formation, war activities, their presence at Appomattox and their peace keeping in Virginia as they marched back to Washington and then home.
Saturday, Oct. 8, 9 am - 3pm - NHS Annual Yard & Bake Sale – Watch for details on how to donate items for the yard and bake sale and plan to come and shop.
Wednesday, Oct 12, 7 pm – "Portrayal of the Life of Moses VanCampen" by Brendan Heaney, Interpreter, Speaker and Fillmore Central School English Teacher. Moses Van Campen (1757-1849), a prominent figure in Pennsylvania and western New York and a soldier during the Revolutionary War fighting hostile Native American tribes, participated in the Sullivan Expedition in 1779.
Wednesday, Nov 9, 7 pm – "The Sullivan Campaign of the Revolutionary War: The influence on Livingston County by Amie Alden, Livingston County Historian. This program will give an overview of the westernmost battle of the Revolutionary War in New York State and how this event led to the opening of the Genesee Valley for white settlement immediately after the war.
Wednesday, Dec 14, 7 pm – "Annual Show & Tell" Bring your favorite collectible, Nunda story or "What's It?" to share and enjoy holiday refreshments.
* This performance is made possible with funds from the Decentralization Program, a re-grant program of the New York State Council on the Arts with the support of Governor Andrew Cuomo and the New York State Council on the Arts and administered by Livingston Arts, home of The Genesee Valley Council on the Arts. # Pending support from the NY Council for the Humanities Public Scholars Program 2/2016
July 9, 2015- The Nunda Historical Society invites everyone to a very special program by World-renowned Musician, Dennis James who will be making his third Nunda performance with "18th Century Music: The Sounds of Quiet (Sensibilities of Making Music in the Home) on Sunday July 19th at 2:30 PM. For more information on the program and Dennis James, click here.
April 4, 2015- The Nunda Historical Society will be on national television! Last summer we were contacted by the Research staff of the popular genealogical program "Who Do You Think You Are" and asked to assist in research Nathaniel and Mary Coe who were the ancestors of the popular actor, producer and director Tony Goldwyn. We worked with them for several months and they came to film in November. Here is the press release they sent us that describes the show!
WDYTYA 5 Episode Description (Episode 510: TONY GOLDWYN)
SHORT DESCRIPTION: Tony Goldwyn dives into this maternal family's past and discovers a remarkable couple that pioneered women's rights, braved great danger, and helped shape the American West.
LONG DESCRIPTION: Tony Goldwyn digs into his maternal roots in search of the unknown details of the Howard family tree. Along his journey, Tony unearths the story of his three times great grandparents who broke new ground fighting for women's rights; fled their home amidst the ravages of war; and helped shape the American West.
WHO DO YOU THINK YOU ARE?
Episodic pitch sheet
Talent: TONY GOLDWYN
Air Date: April 5, 2015
Dates filmed: November 09 – 16 & December 22 & 23, 2014
Cities/locations visited: Biltmore Hotel, Los Angeles, CA; Los Angeles Central Library, Los Angeles, CA; New York State Library, Albany, NY; Nunda Historical Society, Nunda, NY; Pioneer Courthouse, Portland, OR; Oregon Historical Society, Portland, OR; Fort Dalles Museum, The Dalles, OR; Oregon State Archives, Salem, OR; Mountain View Cemetery, Hood River, OR.
Key details discovered – to share with press, etc.: Actor, director and producer Tony Goldwyn has a remarkable Hollywood pedigree. What fewer people may know is that on his mother's side, he hails from a celebrated stage and screen family – his grandfather was Sidney Howard, best known for writing the screenplay for Gone With the Wind. Tony acknowledges that he knows nothing about the Howard side and anything he can learn about Howard's ancestry would be a boon.
With the help of a genealogist, Tony pushes past his two times great grandfather Lawrence Coe and finds his three times great grandparents Nathaniel and Mary Coe living in Albany, New York in the mid 1800's, where Nathaniel was a politician in the state assembly.
At the NY State Library in Albany, Tony learns that his 3 times great grandfather Nathaniel Coe proposed 'anti-Seduction' legislation which concerned issues surrounding pre-or extra-marital sex and prostitution. Curious about why his ancestor focused on this social issue specifically, Tony decides to head to Nathaniel's hometown of Nunda, NY to see if the explanation for his 3x GGF's concerns about "seduction" lie there.
In Nunda, Tony finds out that Nathaniel hosted a meeting of the Female Moral Reform Society at his home in 1837. A social historian explains that this undoubtedly indicates Nathaniel's wife Mary's membership in the organization. A newspaper article reveals that Mary was a "radical" activist in her community, suggesting that the two shared a passion for this cause and formed a productive, well-suited partnership. Tony is then surprised to learn that in 1852, Nathaniel became a U.S. Postal Agent across the country in Oregon.
Tony heads to Oregon, where he finds that as a U.S. Postal Agent, Nathaniel was responsible for laying out the infrastructure of the developing Postal Service as the U.S. expanded westward. Nathaniel, Tony learns, was on the cutting edge of modernization as a frontier agent – with all the prestige that implies. Then through original letters written by Mary Coe, Tony discovers that not only did Mary make an arduous journey around the nation via ship to join her husband in Oregon, but his three times great grandparents had to flee their home as the Indian Wars broke out around them.
Tony is startled to learn that his ancestor may not have been as progressive as he thought. Reading a letter written by Nathaniel, Tony sees that Nathaniel believed the Indians were hell-bent on exterminating all white settlers, and that any resistance by the Indians to American "progress" and expansion westward justified removing them or exterminating them. Finally, Tony finds an article detailing Mary & Nathaniel Coe's importance in the region – they helped establish the still thriving city Hood River in Oregon. He also learns of his 3x great-grandparents' final resting place at the aptly named Mountain View Cemetery in Hood River, and makes the pilgrimage to pay his respects to this dedicated couple at their gravesite.
April 26, 2014 - The Nunda Historical Society has released the first two videos in the "Nunda Memories" series. Click here for the link to the videos.
The Nunda Historical Society joins New York State in the celebration of Museum Week. For more details on this state wide event, please click the logo below: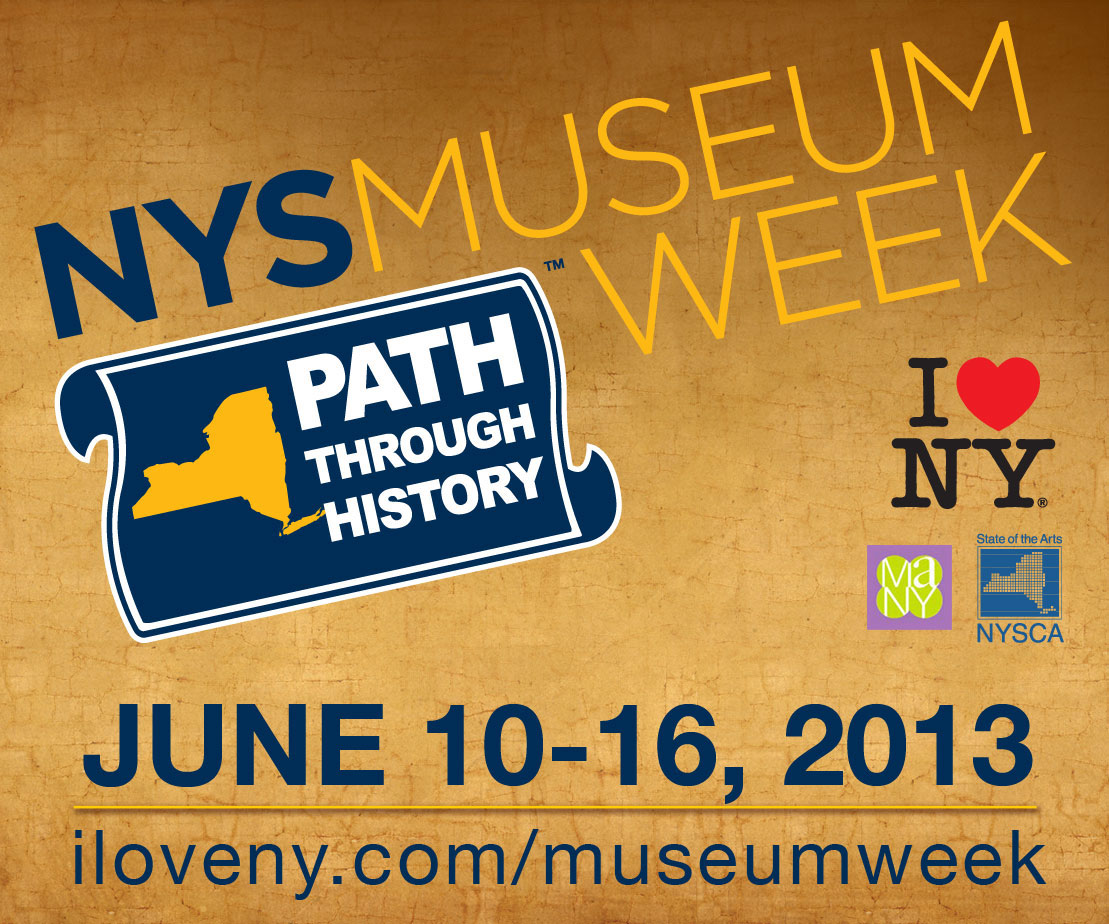 Press Release for August 13, 2011
Event Nunda Historical Society to Host Nunda Area Homecoming
Nunda area residents, old and new, are invited to a free afternoon at the Nunda Historical Society & Rose Shave Gallery at 24 Portage Street on Saturday, August 13th. In the past, this annual gathering was known as the Reunionists event.
Meet old friends and neighbors to enjoy special history presentations or just visit and catch up on all the "news." Also view the new renovations to the museum and latest additions to the Collection, including two Rose Shave paintings.
The afternoon reception/open house begins at 1:00 PM with a Book Signing for Nunda, Portage, Genesee Falls, a June 2011 Arcadia Publication by Tom Cook. At 1:30 PM Caryn Adler will present "So You Want to Write the Family History".
Caryn Adler, a resident of Michigan, has been researching her family genealogy and assisting others with their research for over 30 years. To date, there are about 5,600 names in her database, with one line traced back to the year 1066. In 2009, Caryn became interested in writing stories about several of her ancestors. She also discovered that many other genealogists shared this desire, but were unsure how to proceed. In response, Caryn developed and launched three Family History and Memoir Writing Groups. Since then, the number of groups has ballooned to nine! In the past few years Caryn's research brought her to Nunda where she joined the Historical Society. She has now generously offered to share her expertise with us.
Caryn is a popular speaker in Southwest Michigan and Donna Odom, Executive Director of the Southwest Michigan Black Heritage Society, offers the following: "Caryn Adler combines over 30 years of experience in genealogy research and a passion for helping others write their family histories. Her no-nonsense approach and attention to detail combine to create an engaging and informative presentation that will satisfy the beginning genealogist, the memoir writer, or the family historian. She does not disappoint."
At 2:45 PM, a brief meeting will be held to plan for 2012. This will be followed at 3 PM by "We'll Rally 'Round the Flag" - An Introduction to Nunda and Portage in the Civil War, presented by local historian, author, and popular speaker, Tom Cook. When the Civil War began one hundred and fifty years ago, the people of Nunda and Portage "rallied 'round the flag." Travel back in time with Tom as he examines how the Keshequa Valley went to war and the impact the conflict had on the two towns. Interested people may also join Tom at 4:15 PM for a Civil War Tour of Oakwood Cemetery. Participants will visit the graves and hear the stories of some of the Nunda areas Civil War soldiers as well as the resting places of abolitionists, former slaves, and other important figures of the 1860s.
Please join us for this 2011 Nunda Area Homecoming. Remember that friends from both in and out of town look forward to visiting with you. We also welcome your help in planning for an expanded event for 2012.
May 2011 - The Society has begun work on the next GetSet grant (see below) and has installed carpeting in the new exhibit area. The dedication of the newly renovated areas will be held on Mary 27th. The Victorian Tea was a success raising over $400.00!
April 2011 - The Nunda Historical Society has received notice that a GetSet grant from MuseumWise has been approved. The grant will be used to bring Mr. Walter Mayer of the Buffalo & Erie County Historical Society to our museum building to review our collections and help us organize our new archives room.
March 2011 - It is not too early to sign up for our special trip into history that the Nunda Historical Society has scheduled for July! See details!
February 2011 - The work on this phase of the Museum building has been completed! Watch for the upcoming issue of our newsletter for more information.
January 2011 - Work continues on the renovation project. The two new rooms will be completed by February 1st except for flooring and furnishing. See our upcoming newsletter for photographs and details. Donations are still needed to finish the project! We are also finishing our strategic planning process. Watch for the publication of the new plan on this website.
- The Oakwood Cemetery Association has announced a new website for Nunda's Oakwood Cemetery. Be sure to check it out!
September 12 2010 - Our newsletter will be on its way soon!
May 30, 2010- We have received word that we were awarded a GET SET grant which will allow us to create a strategic plan. This is very important to the Society at this time with our coming expansion of exhibits and archives space. We will be working with Sally Treanor again to develop the plan. The Board is planning to meet with her in late June. Any member who is interested in participating should contact Tom Cook.
May 2010- The replacement of the roof is underway. The Museum will be closed until further notice due to the construction!
March 2010 - The Nunda Historical Society has announced a Museum Building Fund Drive with a goal of $25,000. It was determined that the roof system of the rear portion of the building has to be replaced this spring. The monies raised will pay for this work and allow the Society to begin interior work. Here is the link to the letter we published in the local shopper.
February 2010 - The Nunda Historical Society Board met with consultant Sally Treanor in a four hour workshop funded by a Get Ready Grant from the Upstate History Alliance. Completing this step of the grant allows the Society to participate in GET SET grants, which will provide consultants to help with strategic planning, museum exhibit planning and design, collections development and more. The Society is currently completing the application for the first of what is hoped several GET SET grants.
December 2009 - Work continues on the renovation project at the Historical Society building. Large bay doors have been removed and replaced with a solid wall. The interior walls have been stripped of tin and wood, and recently the old ceiling has been removed. After some needed repairs are made to the roof area, work will begin in insulating the walls.
September 2009 - The Nunda Historical Society has announced the publication of another book in the Bicentennial Series - " The Development of the Nunda School System" by Sandra Bonadonna. The book is available at the Nunda Historical Society, the Nunda Family Pharmacy, and Bell Memorial Library.
September- The Society has just published the latest issue of our newsletter! Check it out!
April 2009 - The Nunda News is now online! Go to the reference desk for the link to the site. Also, work will begin in enclosing the wall in the rear portion of our historical building. Hark Homes will soon be removing the old bay doors, and building the new wall. Interior work will follow later this year.
February 15, 2009 - The Nunda Historical Society announced that the Nunda News will soon be online. Working with Tom Tryniski of www.fultonhistory.com, all issues of Nunda's newspaper from 1859 to 1982 will soon be online. A link will be placed on the Society's website as soon as the data becomes available!
September 4, 2008 - The Nunda Historical Society announced the publication of its first newsletter "Historical Nunda". This newsletter will be published several times a year and will replace the former annual membership letter. The 8 page newsletter includes historical photos, the latest news, a list of members, and much more! The newsletter can be viewed as a pdf file by clicking here. It is also available at the Museum, the Bell Memorial Library, and several other locations in Nunda.